Installing a fence might seem like an easy weekend DIY project. However, there's more to installing a fence than just digging holes and sticking in the fence posts. You may think doing it yourself will help you save money, but when it comes to proper fence installation, the DIY approach can cost you more than hiring a fence company. It's important to remember that if you want something done right, it's often best left to the professionals.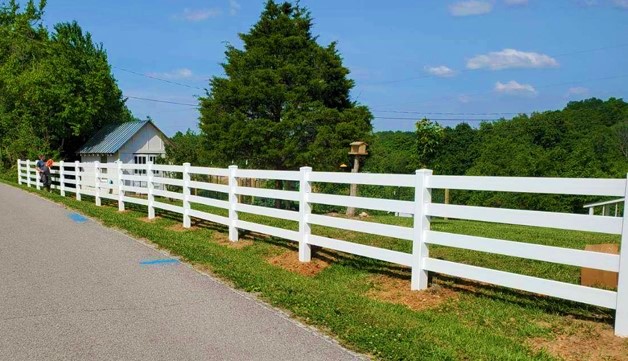 You get the job done right… the first time.
When you hire a fence company, you have the guarantee that the job is going to be done right. Your installer can offer you invaluable recommendations on anything from placement to materials. They'll also help you avoid mistakes that could be inconvenient or difficult to rectify. For example, not knowing where your property line is and accidentally building on your neighbor's yard. Professional contractors can make sure property lines are clearly marked so something like that doesn't happen.
Having a fence professionally installed also means there will be less maintenance down the line. When installed properly, you won't have to worry that you missed something along the way that could cause issues- like leaning or even collapse- later on. A professional and reliable fence installer won't miss anything.
You get the right fence.
A professional fence company will consider all aspects of the job- even the ones you may not have even thought of. If you're thinking of installing a fence, you probably have a certain style in mind. However, in many cases, a professional can show you options you may not have known existed. With their help, you can choose a fence that is more suitable for your goals, property, and area. Some things to consider when choosing a fence include:
Material
Maintenance
Style
Functionality
Terrain
Durability
Local heigh and setback regulations
Your budget
When you work with a professional, they will be keeping all these different aspects in mind and will know the best type of fence to meet each one.
You save time.
If you hire a professional fence company, you are going to save time. Since the professionals have years of experience and expertise, they are going to be able to install your fence in a fraction of the time it would take you. Not only that, but they've also already taken care of all the planning, gotten the necessary approvals, and acquired the proper materials and tools before their team even arrives on site to install the fence.  You get to sit back and relax, while the professionals get the job done efficiently and correctly.
You save money.
Because you're saving time, you're also saving money. When installing (or even repairing) a fence yourself, you can easily run into unexpected problems or expenses. When you hire a professional fence company, they'll be able to tell you what to expect. This means less chances of any unpleasant or expensive surprises.
A professional fence company will also have access to the proper equipment for the job. Installing a fence properly can take more know-how and more tools than you might think. Besides having access to these tools, the professionals will also have the technical expertise and experience of handling them. Not only does this lessen your chance of injury, but it also saves you money from renting or buying tools you may never use again.
You increase your property value.
Not only can the right fence add security and privacy to your home, it can also add to it's curb appeal. All of these things together will help to increase your property value. When you hire a professional fence company, look for one that is well known in your area. If it ever comes time to sell your home, prospective buyers will know that both the fencing material and installation are top-quality and up to code. This will add enormous value to your home. It also helps that a fenced in yard is one of the top things buyers are often looking for.
You support a local business.
One of the worst parts about trying to install a fence yourself is researching your local laws. However, if you hire a locally owned business, they're going to be experts in all the laws and codes for your area. Because they live and work nearby, they'll make sure your new fence meets the most up-to-date requirements.
A local fence company's customers are also their neighbors. Businesses rely on customers, so the best ones are going to offer outstanding customer service, but also competitive pricing and a guarantee.
If you're looking to hire a local fence company, Clarksville Fencing has been right here in Clarksville since 1975! With a wide variety of materials to choose from, we can help you find the fence solution that's best for your home or business. Request a quote today!