Like with anything you clean, there are going to different ways to get the job done depending both on the level of grime and what stains there might be. Although it might not be the first thing you think of when you're getting ready for cleaning day, your vinyl fence is probably in need of a good wash down. How often you clean your fence, where it is located, and even the weather, will all dictate how in-depth your cleaning needs to be.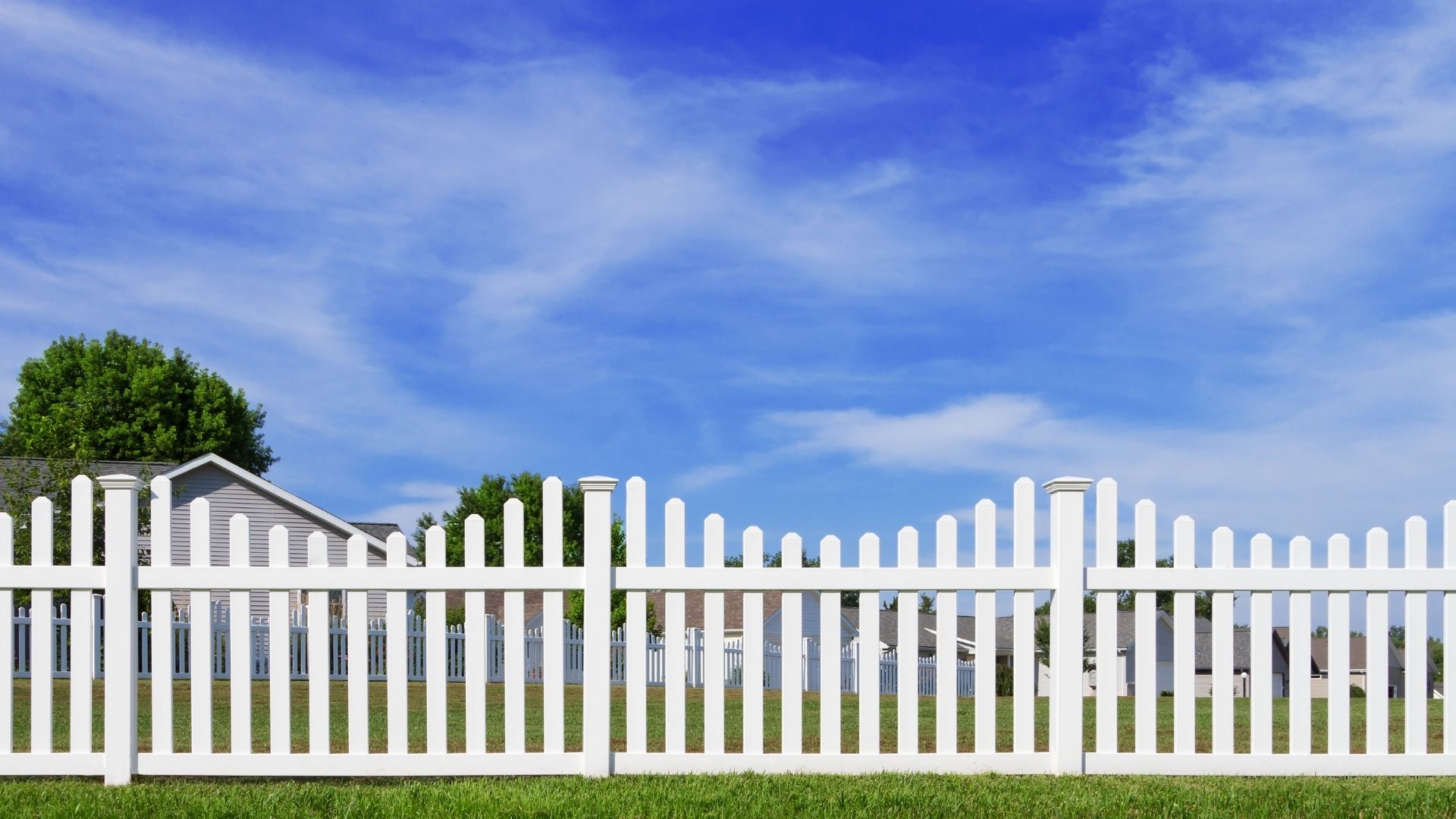 The Power of Water
Whether it comes in the form of your garden hose or a pressure washer, sometimes all you need it water to clean your vinyl fence. Even if you have more stubborn stains or grime, hosing down your fence should always be your first step. It can get rid of any loose dirt or debris without any damage to your fence. You may even find that after a good hosing down, your fence is looking good as new.
However, if you're looking for a little more "oomph" without breaking out the cleaning solutions, a pressure washer can be just the trick. There are a lot of different pressure washers out there, so make sure you do your research before purchasing or renting one from your local hardware store. Some things you'll want to consider include the PSI (pounds per square inch), the GMP (gallons per minute), and whether the pressure washer is run by gas or electricity.
Spot Cleaning
If you've hosed down or pressure washed your vinyl fence and still have stains left behind, do not despair! There are ways to spot clean your fence without breaking out the big guns. Chances are you probably use a Mr. Clean Magic Eraser inside your home. Now is your chance to use it on your fence. The Magic Eraser is a great way to get that stubborn dust, dirt, and any other general yard pollution off of your fence. Just like you would regularly, make sure to wet the Magic Eraser thoroughly and squeeze out excess water before use. For maximum efficiency, work from the top of your fence downward. There is even an extra durable version of the Magic Eraser if you're worried about your regular ones being used up too quickly.
DIY Cleaning Solutions
If your vinyl fence has heavy-duty stains that the pressure washer and Magic Eraser haven't been able to touch, it may be time to break out the cleaning solutions. You can easily make your own by adding a small amount of dish soap to a bucket of warm water. Make sure the solution is nice and sudsy before grabbing an old rag or dishtowel to scrub your fence. You can also try a non-abrasive scrub brush on the more stubborn stains.
Another solution you can make yourself includes a popular natural household cleaner: vinegar. You'll want to add anywhere from ½ to 1 cup of white vinegar to about 1 gallon of water. Unlike with bleach, the proportion of vinegar to water doesn't quite matter as much! For example, to get those really stubborn stains, add more vinegar to the solution. You can even add a little bit of dish soap too.
Something a Little More Heavy Duty
Still have stains that are refusing to come out of your vinyl fence? It may be time for bleach. Although you might be wary to use bleach on your vinyl fence, if used properly you shouldn't have any issues. Bleach on its own is powerful enough to start to break down vinyl. Luckily, if you water down your bleach solution, you shouldn't run in to any problems. Much like the dish soap DIY cleaning solution, you'll only be adding a little bit of bleach to your bucket of water. In general, your solution should be one part bleach to five parts water.
Even taking care to water down your bleach, you may want to avoid its use all together if your vinyl fence is any color other than white. There is still a chance that the use of bleach could lead to discoloration of your vinyl fence.
Specialized Cleaners
Some of the most stubborn stains you'll come across when cleaning your fence will be from rust and mold. For red rust stains, there are specialized vinyl fence cleaners. They can be found both online and at your local hardware store. Additionally, there are specialty mold cleaner solutions that can be used on their own or with your pressure washer.
No matter how you decide to clean your vinyl fence, make sure you rinse it down with water when you're done. To help avoid the use of harsher cleaners like bleach or the specialized cleaners for rust and mold, make sure you are keeping up with your regular fence maintenance. And if you're thinking of installing a vinyl fence, you can request a quote from Clarksville Fencing today!